Arctic Sea Ice Extent in 2016 Ties as Second Lowest in The Satellite Record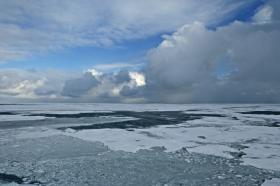 Arctic sea ice extent shrank to 1.6 million square miles earlier this month — tying 2016 with 2007 as the second lowest sea ice minimum since satellite records began. The lowest year remains 2012. The new measurements follow a decades-long trend of declining sea ice extent in the Arctic as global temperatures rise.
According to NASA, "September Arctic sea ice is now declining at a rate of 13.4 percent per decade, relative to the 1981 to 2010 average." The ten lowest sea ice extents have all happened in the last ten years.
Continue reading at Yale News.
Credits: NOAA