Molecular signature shows plants are adapting to increasing atmospheric carbon dioxide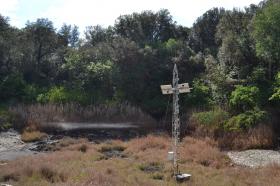 Plants are adapting to increasing atmospheric carbon dioxide according to a new study from the University of Southampton
The research, published in the journal Global Change Biology, provides insight into the long-term impacts of rising CO2 and the implications for global food security and nature conservation.
Lead author Professor Gail Taylor, from Biological Sciences at the University of Southampton, said: "Atmospheric CO2 is rising – emissions grew faster in the 2000s than the 1990s and the concentration of CO2 reached 400 ppm for the first time in recorded history in 2013.
"On the one hand, more CO2 is known to be good for plants, at least in the short-term because this drives up photosynthesis and plant growth including crop growth and food production. Indeed, recent decades have seen the planet becoming greener as vegetation growth is stimulated as CO2 rises.
Continue reading at University of Southampton
Photo: High carbon dioxide spring, with tower for measuring the concentration
Photo via University of Southampton