A Major Ocean Current is Widening as Climate Warms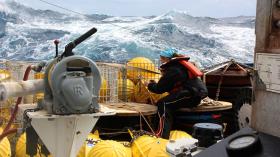 A new study by University of Miami (UM) Rosenstiel School of Marine and Atmospheric Science researchers found that the Indian Ocean's Agulhas Current is getting wider rather than strengthening. The findings, which have important implications for global climate change, suggest that intensifying winds in the region may be increasing the turbulence of the current, rather than increasing its flow rate.
Using measurements collected during three scientific cruises to the Agulhas Current, the Indian Ocean's version of the Gulf Stream, researchers estimated the long-term transport of the current leveraging 22 years of satellite data. They found the Agulhas Current has broadened, not strengthened, since the early 1990s, due to more turbulence from increased eddying and meandering.
One of the strongest currents in the world, the Agulhas Current flows along the east coast of South Africa, transporting warm, salty water away from the tropics toward the poles. The Agulhas, which is hundreds of kilometers long and over 2,000-meters deep, transports large amounts of ocean heat and is considered to have an influence not only on the regional climate of Africa, but on global climate as part of the ocean's global overturning circulation.
Continue reading at University of Miami Rosenstiel School of Marine & Atmospheric Science
Photo Credits: University of Miami Rosenstiel School of Marine & Atmospheric Science