For platinum catalysts, a tiny squeeze gives a big boost in performance, Stanford study finds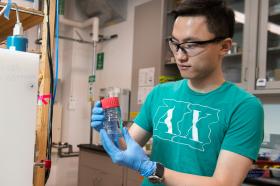 A nanosize squeeze can significantly boost the performance of platinum catalysts that help generate energy in fuel cells, according to a new study by Stanford scientists.
The team bonded a platinum catalyst to a thin material that expands and contracts as electrons move in and out, and found that squeezing the platinum a fraction of a nanometer nearly doubled its catalytic activity. The findings are published in the Nov. 25 issue of the journal Science.
"In this study, we present a new way to fine-tune metal catalysts at the atomic scale," said lead author Haotian Wang, a former graduate student at Stanford now at Harvard University. "We found that ordinary battery materials can be used to control the activity of platinum and possibly for many other metal catalysts."
Continue reading at the Stanford University
Image courtesy: L.A. Cicero