Species diversity reduces chances of crop failure in algal biofuel systems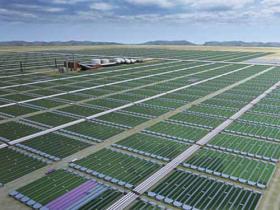 ANN ARBOR—When growing algae in outdoor ponds as a next-generation biofuel, a naturally diverse mix of species will help reduce the chance of crop failure, according to a federally funded study by University of Michigan researchers.
Algae-derived biocrude oil is being studied as a potential renewable-energy alternative to fossil fuels. U-M ecologist Bradley Cardinale and his colleagues found that growing multiple algal species in 180 aquarium-like tanks helped stabilize biocrude production and made the system more reliable and efficient.
While the experiment was conducted indoors, its findings have relevance for outdoor cultivation, said Cardinale, co-author of a paper published online recently in the journal Environmental Science & Technology.
"These findings are important because one of our greatest challenges in making algal biofuel affordable is improving the efficiency of outdoor growth ponds and preventing crashes that ruin crops," he said.
Continue reading at University of Michigan.
Photo via Popular Mechanics.