Race for a Better Fuel Begins with NREL Researchers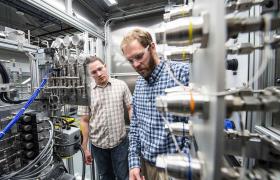 Watching cars zoom around and around an oval track isn't Jesse Hensley's idea of a good time. Making them run on biofuel would be.
On the Colorado campus of the Energy Department's National Renewable Energy Laboratory (NREL), where the posted speed limit is 20 mph, Hensley and his team have been racing toward a future where high-octane biofuel could push automobile performance further.
Hensley's ongoing research could make racing fans take notice. He and his colleagues in the laboratory's Thermochemical Catalysis Research and Development group have created a catalyst that converts biomass into a hydrocarbon mixture rich in 2,2,3-trimethylbutane, also known as triptane. Triptane is added to gasoline to reduce engine knocking, to boost the octane rating, and to increase the motor's efficiency. The biofuel NREL developed is 85% triptane.
Read more at National Renewable Energy Laboratory (NREL)
Photo Credits Dennis Schroeder