To improve health and exercise more, get a gym membership, Iowa State study suggests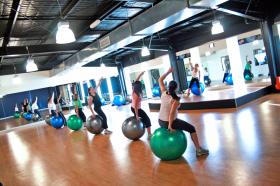 If your New Year's resolution was to exercise more in 2017, chances are you've already given up or you're on the verge of doing so. To reach your goal, you may want to consider joining a gym, based on the results of a new study from a team of Iowa State University researchers.
Duck-chul (DC) Lee, an assistant professor of kinesiology and corresponding author of the paper, says the study found people who belonged to a health club not only exercised more – for both aerobic activity and strength training – they also had better cardiovascular health outcomes. Those health benefits were even greater for people who had a gym membership for more than a year, Lee said. The research is published in the journal PLOS ONE.
"It's not surprising that people with a gym membership work out more, but the difference in our results is pretty dramatic," Lee said. "Gym members were 14 times more aerobically active than non-members and 10 times more likely to meet muscle-strengthening guidelines, regardless of their age and weight." The results were similar in both men and women.
It's recommended that adults get 150 minutes of moderate or 75 minutes of vigorous aerobic activity each week, such as brisk walking or running. The Physical Activity Guidelines also suggest two days of weight lifting or other muscle-strengthening activities. Despite strong evidence of the health benefits, only half of Americans are getting enough aerobic activity and about 20 percent meet the guidelines for strength training.
Read more at Iowa State University
Photo credit: Photo by www.localfitness.com.au via Wikimedia Commons