Peering into China's thick haze of air pollution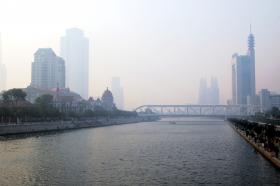 As 2016 gave way to 2017, residents of Beijing, Tianjin, and many other northern Chinese cities suffered through the longest stretch of stifling air pollution ever recorded in the country. They choked through eight continuous days of thick, light-blocking haze, starting Dec. 30, 2016. This stretch of bad air began only a week after people in 70 northern Chinese cities were enveloped by similar days of haze composed of high concentrations of particles less than 2.5 μm in diameter (PM2.5).
Also known as ultrafine particulates, PM2.5 consists of solids and liquids. Its sources include carbon black from incomplete combustion as well as sulfates and nitrates. Levels of such ultrafine particles surpassed 500 μg per cubic meter of air in both of the recent incidents in China.
That level is twice the daily concentration of 250 μg/m3 that the U.S. Environmental Protection Agency considers hazardous to human health. In contrast, few U.S. cities recorded an air quality index of above 50, which can be translated to a PM2.5 concentration of 12 ug/m3, during the recent days that northern China's air was filled with haze, according to EPA data.
Continue reading at C&EN
Photo credit: Shubert Ciencia via Wikimedia Commons