Floating towards water treatment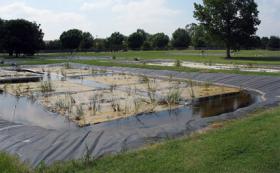 Floating wetlands may seem odd but are perfectly natural. They occur when mats of vegetation break free from the shore of a body of water. That got ecological engineers curious about how they affect the water they bob up and down in.
A group from Saint Francis University in Pennsylvania and the University of Oklahoma, including researcher William Strosnider, has found that the floating wetlands show promise for water treatment. They engineered four different floating treatment wetlands designs using different materials and wetland plants.
"The main result is that engineered floating treatment wetlands could affect water quality in many of the same ways that naturally-occurring floating wetlands do," Strosnider says.
For the four designs, the researchers used materials such as drainpipe, burlap, mulch, utility netting, and reused plastic bottles. They planted them with two wetland plants, cattail and common rush. The team then spent three years measuring the effect of the floating wetlands on the water.
Continue reading at American Society of Agronomy
Photo: The floating treatment wetland experiment at the University of Oklahoma Aquatic Research Facility. Photo credit William Strosnider.