Toward all-solid lithium batteries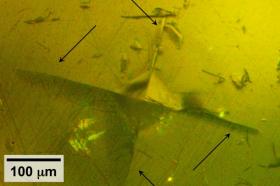 Most batteries are composed of two solid, electrochemically active layers called electrodes, separated by a polymer membrane infused with a liquid or gel electrolyte. But recent research has explored the possibility of all-solid-state batteries, in which the liquid (and potentially flammable) electrolyte would be replaced by a solid electrolyte, which could enhance the batteries' energy density and safety.
Now, for the first time, a team at MIT has probed the mechanical properties of a sulfide-based solid electrolyte material, to determine its mechanical performance when incorporated into batteries.
The new findings were published this week in the journal Advanced Energy Materials, in a paper by Frank McGrogan and Tushar Swamy, both MIT graduate students; Krystyn Van Vliet, the Michael (1949) and Sonja Koerner Professor of Materials Science and Engineering; Yet-Ming Chiang, the Kyocera Professor of Materials Science and Engineering; and four others including an undergraduate participant in the National Science Foundation Research Experience for Undergraduate (REU) program administered by MIT's Center for Materials Science and Engineering and its Materials Processing Center.
Read more at MIT News
Image Credits: MIT