High Selenium Levels Found in Fish in N.C. Lakes Receiving Coal Ash Waste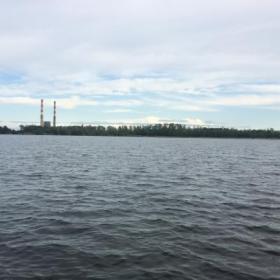 A new Duke University study has found high levels of selenium in fish in three North Carolina lakes receiving power plants' coal ash waste.
"Across the board, we're seeing elevated selenium levels in fish from lakes affected by coal combustion residual effluents," said Jessica Brandt, a doctoral student in environmental health at Duke's Nicholas School of the Environment, who led the study.
Selenium is a naturally occurring element that is concentrated in coal ash and other coal combustion residuals. Early life exposure can cause deformities, impaired growth and reproduction, and in extreme cases death in fish and aquatic invertebrates. Because selenium accumulates in the food chain, it also can be toxic to birds that eat aquatic animals containing high levels.
Brandt and her colleagues published their peer-reviewed study Feb. 6 in the journal Environmental Science & Technology.
Continue reading at Duke University
Image: A coal-fired power plant on Sutton Lake, N.C.
Credit: Jessica Brandt