University of Toronto scientist says diesel trains may expose passengers to exhaust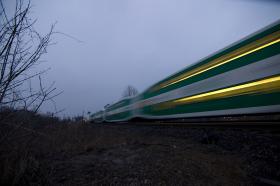 A new U of T study finds that diesel trains may expose passengers to elevated levels of certain pollutants, especially if they are sitting directly behind the locomotive.
"Imagine yourself driving down a busy highway in a convertible, and spending your entire commute sitting behind a very large diesel truck," said Greg Evans, professor at U of T's Faculty of Applied Science & Engineering and director of the Southern Ontario Centre for Atmospheric Aerosol Research (SOCAAR) at U of T. "That's comparable to the levels we see here."
Evans and Cheol-Heon Jeong, a senior research associate at SOCAAR, measured the concentration of airborne particles using two types of portable instruments: one that detects black carbon (BC) and one that detects ultrafine particles (UFP).
"Black carbon is essentially soot and is formed right in the cylinder of the diesel engine," said Evans. UFP are formed when gases in the exhaust condense into microscopic particles less than 100 nanometres in diameter or about 1000 times smaller than the width of a human hair.
Continue reading at University of Toronto.
Photo via University of Toronto.