Researchers Design Facial Recognition System as a Less Invasive Approach to Tracking Lemurs in the Wild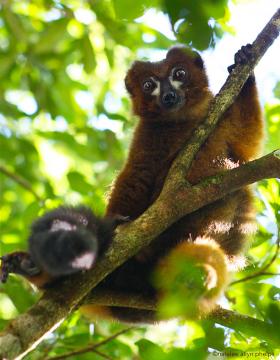 A team of researchers has developed a new computer-assisted recognition system that can identify individual lemurs in the wild by their facial characteristics and ultimately help to build a database for long-term research on lemur species. The scientists hope this method has the potential to redefine how researchers track endangered species in the wild.
The recognition system, LemurFaceID, identifies individuals based on photographs, which helps researchers build a database of lemurs in Madagascar and study individuals over time. According to Rachel Jacobs, a biological anthropologist at the George Washington University's Center for the Advanced Study of Human Paleobiology and co-lead author of the paper, this method can help scientists with two issues: conducting evolutionary studies and aiding conservation efforts.
"We are excited about the results of this truly cross-disciplinary collaboration," said Dr. Jacobs. "The ability to consistently study individuals over long periods of time, as well as integrate data across different studies, are some of the challenges we face when studying wild animal populations. Senior author, Stacey Tecot (University of Arizona), and I weren't particularly satisfied with the common approaches used in lemur research, so we aimed to do something different with red-bellied lemurs, and we sought the expertise of our computer science collaborators."
Continue reading at George Washington University.
Photo via George Washington University