New URI professor examining effects of climate change on coral reefs, shellfish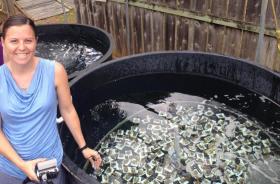 The newest professor in the University of Rhode Island's College of the Environment and Life Sciences, Hollie Putnam, thinks some corals and shellfish might have good enough "memories" to buffer the changes in ocean chemistry that are resulting from global climate change.
A native of Minnesota who earned a doctorate at the University of Hawaii, Putnam is studying how a wide variety of marine organisms are responding to changes in their environment. Focusing on reef-building corals and other shelled creatures that are threatened by increasing temperatures and ocean acidification, she is testing them to determine how species may acclimatize to the new circumstances.
"I'm interested in how the environment is changing, how animals respond to those changes, and the potential for acclimatization to those conditions, particularly across generations and in different life stages," said Putnam, assistant professor in the URI Department of Biological Sciences, who joined the faculty in January. "I'm asking questions like, do offspring perform better because of their parents' history in certain conditions, and if so, what are the mechanisms driving that."
Continue reading at University of Rhode Island
Photo: URI Assistant Professor Hollie Putnam poses with one of her research experiments. (Photo courtesy of Hollie Putnam)