Offshore Wind Push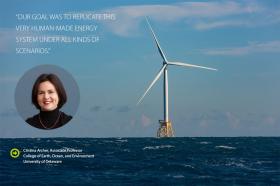 Injecting large amounts of offshore wind power into the U.S. electrical grid is manageable, will cut electricity costs, and will reduce pollution compared to current fossil fuel sources, according to researchers from the University of Delaware and Princeton University who have completed a first-of-its-kind simulation with the electric power industry.
The researchers consulted with PJM Interconnection — a grid operator supplying electricity to more than 60 million people in 14 states — to develop a computer model that simulates how the electric grid would respond to injections of wind power from offshore wind farms along the East Coast at five build-out levels, between 7 and 70 gigawatts of installed capacity. The two-part study is published in the journal Renewable Energy.
One hurdle grid operators face is how to integrate increasing amounts of naturally fluctuating offshore wind into a network that has to deliver reliable power to customers, 24-7. The UD and Princeton team showed conservatively that, with some upgrades to transmission lines but without any need for added storage, the PJM grid can handle over 35 gigawatts of offshore wind—that's 35 billion watts—enough to power an estimated 10 million homes. They also found that the PJM grid could in the future handle twice that amount, up to 70 gigawatts, as wind forecasting improves, allowing the power operator to better predict and harness more wind.
Read more at University of Delaware
Image Credits: University of Delaware