New studies quantify the impacts of water use on diversity of fish and aquatic insects in NC streams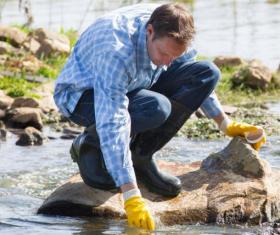 The health of fish and aquatic insects could be significantly affected by withdrawals of fresh water from the rivers and streams across North Carolina according to a new scientific assessment.
A series of studies were conducted by a team of researchers, led by Jennifer Phelan, Ph.D., a senior ecologist at RTI International, to understand the relationships between changes in streamflow and the diversity of fish and richness of aquatic insects.
The studies quantified how changes humans make to streams by withdrawing water impact the ecological health of aquatic systems.
"We were able to show that man-made disruptions in natural flow patterns contribute to reductions in both the abundance and diversity of fish and insects," Phelan said. "The equations derived from our analysis can be used by water resources managers to better predict how a proposed water withdrawal or other alteration to natural stream flow will affect the health of downstream fish populations."
Continue reading at RTI International
Photo via RTI International