Sediment Flows into Galveston Bay Studied to Help Understand Health of Watershed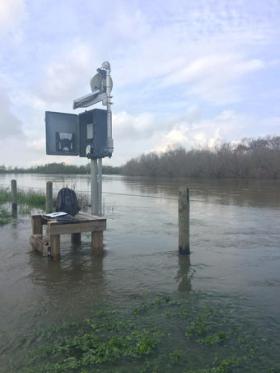 A better understanding of sediment and freshwater flow into Galveston Bay is now available from a new U.S. Geological Survey report, done in cooperation with the Texas Water Development Board, and the Galveston Bay Estuary Program.
Galveston Bay is an important watershed that provides the public with food and economic security, as well as a place for recreational activities. The health of this ecosystem is reliant on the quality and quantity of freshwater streamflow and sediment from the land. Flows can be influenced by alterations in the river course, such as withdrawals and diversions. With population and water demand projected to increase, the ability to provide adequate flows to coastal ecosystems presents a resource management challenge that requires improving the current understanding of freshwater flows.
For the first time, USGS scientists are now collecting real-time sediment and water-quality information on water traveling into Galveston Bay. Researchers examined streamflow and water-quality data in the lower Trinity River watershed from May 2014 to December 2015 to improve understanding of freshwater inflows. This study is part of a larger USGS project, done in cooperation with the TWDB, to monitor the nutrient and sediment concentrations entering Texas bays and coastal wetlands in four major river systems, to include Trinity River, Colorado River, Guadalupe-San Antonio River and Nueces River.
Continue reading at United States Geological Survey (USGS).
Photo via United States Geological Survey (USGS).