New USGS Streamgages Provide Flood Monitoring for Additional Philadelphia Neighborhoods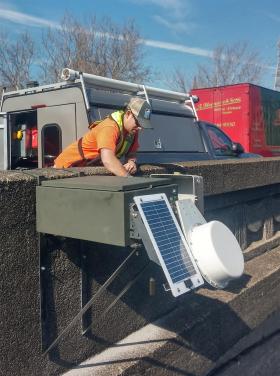 Philadelphia communities along the Schuylkill River and Darby Creek now have new tools to help inform residents of impending flooding. The U.S. Geological Survey recently installed three new streamgages in Manayunk, Eastwick, and downtown near 30th St., which will monitor water levels, and provide vital data used by emergency managers and flood forecasters to help protect lives and property.
Real-time streamflow information from these new gauges will be added to an already existing network of nine streamgages, which monitor surface water in multiple watersheds within the city, providing valuable water resource information for Philadelphia officials and residents. The USGS installed these new streamgages in cooperation with the Philadelphia Water Department at the request of the Philadelphia Office of Emergency Management.
"There is an effort by Philadelphia city officials to have multiple points of coverage for water monitoring," said Kirk White, USGS Hydrologist. "Adding these extra gauges to the existing network enhances the city's ability to alert the public to what is going on during a flood emergency."
Continue reading at United States Geological Survey (USGS).
Photo via United States Geological Survey (USGS).