Human, Cattle Viruses Detected in Some Great Lakes Tributaries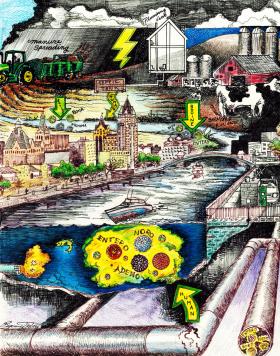 Human and bovine, or cattle, viruses were detected in a small percentage of some Great Lakes Basin streams, with human viruses more prevalent in urban streams and bovine viruses more common in streams in agricultural areas, according to a recent U.S. Geological Survey-led study.
Scientists with the USGS and U.S. Department of Agriculture tested 290 water samples from eight rivers in the Great Lakes Basin from February 2011 to June 2013. The two most frequently detected pathogens were human adenovirus C, D and F in nine percent of samples, which can cause minor respiratory illnesses in people, and bovine polyomavirus in 11 percent of samples.
"Fecal contamination by human pathogens is a potential human health hazard when present in recreational or drinking water, and bovine pathogens can be a health hazard for dairy operations," said Peter Lenaker, a USGS scientist and the lead author of the study. "Results from our study can help managers develop effective water-quality management strategies to minimize pathogen exposure risks."
Human viruses were present in 16 percent of the total number of water samples. They occurred most often and at highest concentrations in the River Rouge in Michigan, followed by the Clinton River in Michigan and the Milwaukee River in Wisconsin. Samples from these three locations had greater than 25 percent urban influence and more than 2,900 people per square kilometer (km2).
Continue reading at United States Geological Survey (USGS).
Photo via United States Geological Survey (USGS).