Wild Birds an Unlikely Source of Costly Poultry Disease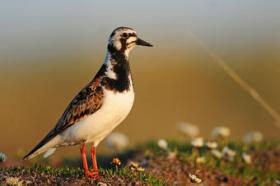 Wild ducks and shorebirds do not appear to carry Newcastle disease viruses that sicken or kill poultry, according to a new study led by the U.S. Geological Survey.
Avian paramyxovirus viruses, which can cause Newcastle disease, are found throughout the planet, infect wild and domestic birds, and sometimes lead to disease outbreaks. In North America, previous research found that paramyxoviruses in cormorants, have occasionally been associated with bird mortality events. However, few studies have assessed virus exchange among wild waterbirds and across the landscape.
"Newcastle disease has been associated with outbreaks of disease in pet and zoo birds and is among the most economically costly poultry pathogens worldwide," said Andy Ramey with USGS and lead author of the study. "However, there hasn't been a tremendous amount of research focusing on how viruses are spread among different types of wild waterbirds or within North America."
Continue reading at United States Geological Survey (USGS).
Photo via United States Geological Survey (USGS).