Agricultural research looks at dugouts as absorbing carbon dioxide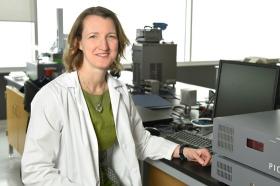 Three researchers at the University of Regina have been awarded a provincial research grant to study the role of agricultural dugouts in greenhouse gas capture.

Dr. Kerri Finlay, Dr. Peter Leavitt, Dr. Gavin Simpson of the biology department, along with Dr. Helen Baulch of the University of Saskatchewan, were recently awarded $255,030 from the Saskatchewan Ministry of Agriculture's Agriculture Development Fund.
"We are hoping to provide guidelines for dugout management to maximize CO2 uptake. If successful, this would offer a very low-cost option for carbon offsets to farmers, as they already have the dugout infrastructure in place," Finlay says.
The funds will be used primarily to hire students, travel, collect, and analyze samples from dugouts across southern Saskatchewan.
Continue reading at University of Regina.
Photo via University of Regina.