Changing Temperatures and Precipitation May Affect Living Skin of Drylands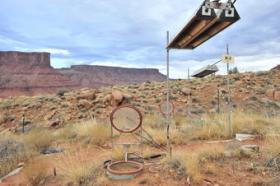 Arid and semiarid ecosystems are expected to experience significant changes in temperature and precipitation patterns, which may affect soil organisms in ways that cause surfaces to become lighter in color and thus reflect more sunlight, according to a new U.S. Geological Survey study.
This change will bounce more energy back into the atmosphere, which can alter global climate.
Drylands make up more than 40 percent of the earth's land surface. The living skin of the desert, called biological soil crusts or biocrusts, is a community of mosses, lichens and/or cyanobacteria that is critical to human and ecosystem health and climate in the Southwest and other dryland areas.
"The discovery that climate change impacts on biocrusts could feedback to future climate is a critical factor that hasn't been considered in the past," said Austin Rutherford, lead author of the new USGS study. "This information is an important step in understanding climate, and may be helpful in developing future global climate models."

Continue reading at United States Geological Survey (USGS).
Photo via United States Geological Survey (USGS).