Boulder scientist teams on study probing implications of ice sheet's demise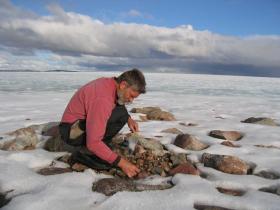 Flying over the remote during research at the Barnes Ice Cap on Baffin Island in 2009, a Boulder scientist saw dark where there should have been white.
Closer inspection revealed that what Gifford Miller spotted was the remnants of a 1963 geological camp that had been buried for decades by snow and ice. Long-abandoned tents and snowmobiles were being unveiled by melting of the ice cap, and that helped inspire a study that suggests a disturbing climate change signal.
Miller, a professor of geological sciences at the University of Colorado, is co-author of a paper published today in Geophysical Research Letters, which projects that the Barnes Ice Cap could vanish entirely within a few hundred years if greenhouse gas emissions continue apace.
Such an event is nearly unheard of, researchers said, in the last 2.5 million years.
The Barnes Ice Cap, about the size of Delaware, is the last remnant of the Laurentide Ice Sheet, which once covered much of North America. It was still a mile thick in present-day Chicago about 20,000 years ago, and started to recede significantly about 14,000 years ago as the planet passed out of its last ice age.
Read more at University of Colorado at Boulder
Image Credit: Gifford Miller, University of Colorado