Wastewater should be recognized as a valuable resource, UN says on World Water Day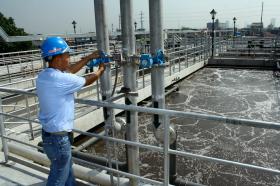 In a world where the demand for water continues to grow and the resource is finite, a new United Nations report argues that wastewater, discarded into the environment every day, once treated, can help meet the needs for freshwater as well as for raw materials for energy and agriculture.
Needless to mention, treating wastewater and removing pollutants can also remarkably reduce the impact on the environment as well as on health.
"Improved wastewater management is as much about reducing pollution at the source, as removing contaminants from wastewater flows, reusing reclaimed water and recovering useful by-products [as it is about increasing] social acceptance of the use of wastewater," noted Irina Bokova, the Director-General of the UN Educational, Scientific and Cultural Organization (UESCO) Director-General in her foreword to the World Water Development Report 2017 – Wastewater: An untapped resource.
The report, launched today in Durban, South Africa, on the occasion of World Water Day, also highlights that improved management of wastewater is essential in achieving the 2030 Agenda for Sustainable Development.
Read more at United Nations New Centre
Image: A wastewater treatment facility in Manila, the Philippines. (Credit: Danilo Pinzon / World Bank)