Dairy farmers should rethink a cow's curfew, say UBC researchers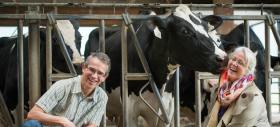 Dairy cows housed indoors want to break curfew and roam free, suggests new research from the University of British Columbia, published today in Scientific Reports.
The study measured how much work dairy cows will do to access pasture, by pushing on a weighted gate. The cows worked hard to access pasture, especially at night. As a comparison, the researchers also measured how much weight the cows would push to access their regular feed when kept indoors; cows worked just as hard to go outside as they did to access fresh feed when they were hungry.
"Our findings show cows are highly motivated to be outside," said Marina von Keyserlingk, the study's lead author and an animal welfare professor in UBC's faculty of land and food systems.
Continue reading at University of British Columbia (UBC).
Photo via University of British Columbia (UBC).