Scientists Discover Mechanism That Causes Cancer Cells to Self-destruct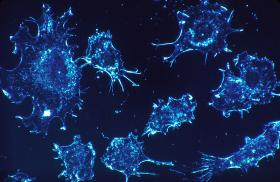 Many cancer patients struggle with the adverse effects of chemotherapy, still the most prescribed cancer treatment. For patients with pancreatic cancer and other aggressive cancers, the forecast is more grim: there is no known effective therapy.
A new Tel Aviv University study published last month in Oncotarget discloses the role of three proteins in killing fast-duplicating cancer cells while they're dividing. The research, led by Prof. Malka Cohen-Armon of TAU's Sackler School of Medicine, finds that these proteins can be specifically modified during the division process — mitosis — to unleash an inherent "death mechanism" that self-eradicates duplicating cancer cells.
"The discovery of an exclusive mechanism that kills cancer cells without impairing healthy cells, and the fact that this mechanism works on a variety of rapidly proliferating human cancer cells, is very exciting," Prof. Cohen-Armon said. "According to the mechanism we discovered, the faster cancer cells proliferate, the faster and more efficiently they will be eradicated. The mechanism unleashed during mitosis may be suitable for treating aggressive cancers that are unaffected by traditional chemotherapy.
"Our experiments in cell cultures tested a variety of incurable human cancer types — breast, lung, ovary, colon, pancreas, blood, brain," Prof. Cohen-Armon continued. "This discovery impacts existing cancer research by identifying a new specific target mechanism that exclusively and rapidly eradicates cancer cells without damaging normally proliferating human cells."
Read more at American Friends of Tel Aviv University
Photo credit: Dr. Cecil Fox, National Cancer Instistute via Wikimedia Commons