Even short-duration heat waves could lead to failure of coffee crops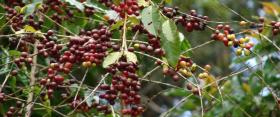 "Hot coffee" is not a good thing for java enthusiasts when it refers to plants beset by the high-temperature stress that this century is likely to bring, research at Oregon State University suggests.
A study by OSU's College of Forestry showed that when Coffea arabica plants were subjected to short-duration heat waves, they became unable to produce flowers and fruit.
That means no coffee beans, and no coffee to drink.
C. arabica is the globe's dominant coffee-plant species, accounting for 65 percent of the commercial production of the nearly 20 billion pounds of coffee consumed globally each year.
Continually producing new flushes of leaves year-round, C. arabica grows on 80 countries in four continents in the tropics.
Continue reading at Oregon State University
Photo: Coffea Arabica (Credits: Oregon State University)