Melting sea ice may lead to more life in the sea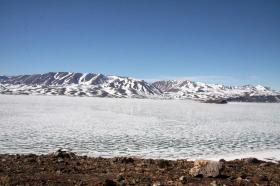 When spring arrives in the Arctic, both snow and sea ice melt, forming melt ponds on the surface of the sea ice. Every year, as global warming increases, there are more and larger melt ponds.
Melt ponds provide more light and heat for the ice and the underlying water, but now it turns out that they may also have a more direct and potentially important influence on life in the Arctic waters.
Mats of algae and bacteria can evolve in the melt ponds, which can provide food for marine creatures. This is the conclusion of researchers in the periodical, Polar Biology.
Continue reading at University of Southern Denmark
Image: Melt ponds cover vast areas in the Arctic.
Image Credits: Heidi Louise Sørensen / SDU