Unique experiment set to reveal the effects of climate change on the forests of the future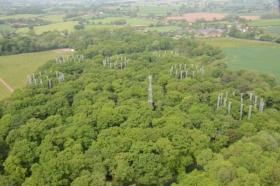 A major new decade-long experiment to study the impact of climate and environmental change on woodlands is launching today.
The Free Air Carbon Dioxide Enrichment (FACE) experiment at the Birmingham Institute of Forest Research (BIFoR) will assess the impact of raised carbon dioxide (CO2) levels on whole forest ecosystems by artificially raising the CO2 level around patches of mature woodland.
The results will help scientists to predict the effects of the atmospheric changes expected by 2050, and to measure the capacity of the forest to lock away carbon released by fossil fuel burning.
The BIFoR FACE facility is the first of its kind in Europe, and one of only three worldwide. The experiment will be the first to produce any concrete evidence about the ability of temperate woodland to mitigate future climate change. Multiple experiments will be run alongside the primary CO2 research project, looking at how raised CO2levels are likely to affect the whole ecosystem, from leaves to soil and from insects to fungi.
Read more at University of Birmingham
Image: This is an aerial view of the forest research facility. (Credit: Norbury Estate)