Climate change puts California's snowpack in jeopardy in future droughts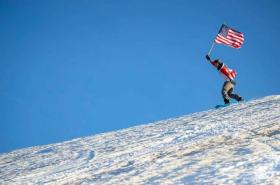 Skiing in July? It could happen this year, but California's days of bountiful snow are numbered.
After five years of drought and water restrictions, the state is reeling from its wettest winter in two decades. Moisture-laden storms have turned brown hillsides a lush green and state reservoirs are overflowing. There's so much snow, Mammoth Mountain resort plans to be open for business on Fourth of July weekend.
But while all that precipitation has put a dent in the current drought — Governor Jerry Brown won't decide whether to declare it over until the Sierra Nevada snowpack is assessed again in April — new UCLA research paints a worrying picture of how drought could affect the snowpack in the future.
The Sierra Nevada snowpack, which provides 60 percent of the state's water via a vast network of dams and reservoirs, has already been diminished by human-induced climate change and if emissions levels aren't reduced, the snowpack could largely disappear during droughts, according to findings in the study published today in the journal Geophysical Research Letters.
Continue reading at UCLA.
Photo via UCLA.