New Infrared-Emitting Device Could Allow Energy Harvesting from Waste Heat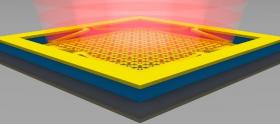 A new reconfigurable device that emits patterns of thermal infrared light in a fully controllable manner could one day make it possible to collect waste heat at infrared wavelengths and turn it into usable energy.
The new technology could be used to improve thermophotovoltaics, a type of solar cell that uses infrared light, or heat, rather than the visible light absorbed by traditional solar cells. Scientists have been working to create thermophotovoltaics that are practical enough to harvest the heat energy found in hot areas, such as around furnaces and kilns used by the glass industry. They could also be used to turn heat coming from vehicle engines into energy to charge a car battery, for example.

"Because the infrared energy emission, or intensity, is controllable, this new infrared emitter could provide a tailored way to collect and use energy from heat," said Willie J. Padilla of Duke University, North Carolina. "There is a great deal of interest in utilizing waste heat, and our technology could improve this process."

The new device is based on metamaterials, synthetic materials that exhibit exotic properties not available from natural materials. Padilla and doctoral student Xinyu Liu used a metamaterial engineered to absorb and emit infrared wavelengths with very high efficiency. By combining it with the electronically controlled movement available from microelectromechanical systems (MEMS), the researchers created the first metamaterial device with infrared emission properties that can be quickly changed on a pixel-by-pixel basis.
Read more at The Optical Society
Image: This illustration shows the room temperature MEMS metamaterial, which can achieve reconfigurable infrared intensities equivalent to a temperature change of nearly 20 degrees Celsius. (Credit: Xinyu Liu, Duke University)