Deepwater Horizon oil spill settlements: Where the money went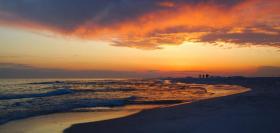 On April 20, 2010, the Deepwater Horizon oil rig exploded off the Gulf Coast, killing 11 people and injuring 17. So began an 87-day oil spill that spewed 3.19 million barrels, or nearly 134 million gallons, into the Gulf of Mexico. It fouled the coasts of Florida, Alabama, Mississippi, Louisiana and Texas and launched a six-year long environmental and legal battle.
The oil well was capped three months later, after 24/7 news coverage. But it left the region reeling from a disrupted coastal economy; a devastated ecosystem; the deaths of as many as 105,400 sea birds, 7,600 adult and 160,000 juvenile sea turtles; and up to a 51-percent decrease in dolphins in Louisiana's Barataria Bay.
The damage ranged from wetlands and beaches all the way down to the organisms on the sea floor. It smothered corals in oil and chemicals, and disrupted the reproductive cycles of commercial and recreational fish -- including large fish like bluefin tuna. As many as 8.3 billion oysters were lost. Investigations continue into the public health effects on coastal residents and responders who investigated and cleaned up the mess.
What resulted from this one incident was an economic, political, scientific and legal nightmare. It was largely settled when a Federal District judge approved the largest environmental damage settlement in United States history – $20.8 billion – on April 4, 2016.
Continue reading at NOAA.
Photo via NOAA.