New coral bleaching database to help predict fate of global reefs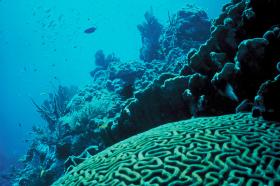 A UBC-led research team has developed a new global coral bleaching database that could help scientists predict future bleaching events.
Until now, knowledge of the geographic extent of mass coral bleaching has been incomplete.
"We know that mass coral bleaching is happening all over the world, but the majority of events are in places in the developing world where the capacity for monitoring them is limited," said Simon Donner, associate professor in the department of geography and the Institute for the Oceans and Fisheries at UBC. "But no report doesn't mean bleaching didn't happen. It could be that the monitoring resources are not available or the reefs are too remote to visit."
To build the database, the researchers scoured academic journals, government documents and other sources for reports of coral bleaching missing from an existing voluntary database commonly used by scientists. Then, they personally contacted local experts in places where they suspected coral bleaching had occurred.
Read more at University of British Columbia
Photo credit: Jerry Reid, U.S. Fish and Wildlife Service WO-3540-CD42A via Wikimedia Commons