WSU researchers find wealth of fish at deep Hawaiian reef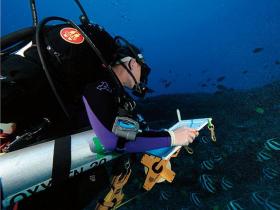 Washington State University marine biologists for the first time have documented a wealth of fish in the "vastly underexplored" deep coral reefs off Hawaii Island.
The study gives fishery managers a more complete picture of fish species and habitat around the Big Island, home to a thriving aquarium fish trade, as well as other deep waters around the globe, said Cori Kane, a doctoral student at WSU Vancouver.
"These efforts show that deep coral reefs provide essential habitat for many shallow coral reef fishes," Kane said. "With shallow coral reefs around the world in jeopardy, these deep reefs might play important roles to conserve reef fish biodiversity."
The research appears in the journal Coral Reefs. Kane's co-author is Brian Tissot, a WSU Vancouver adjunct faculty member and director of both the Humboldt State University Marine Laboratory and the Humboldt Marine and Coastal Science Institute.
Read more at: Washington State University
Image: Cori Kane, WSU Vancouver marine biologist, runs a transect in the waters off Hawaii. (Gregg McFall, NOAA)