Following Recent Surge, Wind Now Generates 5.5 Percent of U.S. Electricity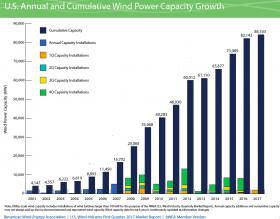 The U.S. wind energy industry experienced its fastest first-quarter growth since 2009, installing 2,000 new megawatts of capacity — enough to power about 500,000 homes — on its way to producing 5.5 percent of the country's electricity.
The American Wind Energy Association (AWEA) also reported that another 21,000 megawatts of wind energy capacity is now under construction or in advanced development — enough to power an additional 5 million average U.S. homes. The AWEA said that 908 utility-scale wind turbines were erected in the first quarter of 2017, driving a nearly four-fold increase in wind energy growth over the first quarter of 2016. Forty-one U.S. states — most recently Rhode Island and North Carolina — now have utility-scale wind power projects. Texas is by far the wind energy leader in the U.S., with a wind power capacity of 21,000 megawatts.
Federal credits for wind energy production, state renewable energy mandates, and falling costs to build and install wind turbines are all driving growth in wind energy capacity.
Read more at: Yale Environment 360
Graph via American Wind Energy Association