Wild Weather and Climate Change: Scientists Are Unraveling the Links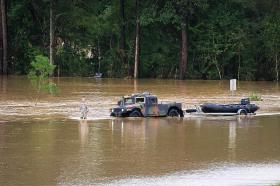 Southeast Australia just had its hottest summer on record: temperatures in some areas hit 35 degrees C (95 degrees F) more than 50 days in a row. And climate change, researchers with the World Weather Attribution project have been able to say, was probably to blame. Average temperatures like those in the 2016/17 Australian summer are now 50 times more likely than before global warming began.
Results like these help to hammer home the real-world impacts of climate change, such as heat waves, droughts, and episodes of extreme precipitation. And researchers are getting ever-better, and faster, at providing them.
The roots of weather attribution go back to 2004, when Peter Stott of the United Kingdom's Met Office and colleagues published the first big paper blaming climate change for a weather-related disaster: The deadly 2003 European heat wave had been made at least twice as likely, they concluded, as a result of human-caused global warming. "Many thousands of people died who shouldn't have," says Stott. "It really highlighted the vulnerability of relatively rich countries like the U.K., France, and Switzerland."
Read more at Yale Environment 360
Photo credit: U.S. Department of Agriculture via Wikimedia Commons