Researchers make waves in the ultrasound world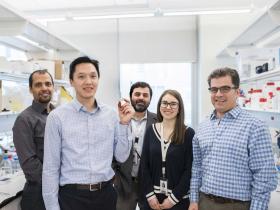 A team of Ryerson researchers, led by Scott Tsai, have developed a new method to create the uniformly minuscule microbubbles most desirable for use in ultrasound imaging.
The cross-disciplinary team, based out of the iBEST laboratories at St. Michael's Hospital, includes Tsai from Ryerson's Mechanical and Industrial Engineering department and Raffi Karshafian and Michael Kolios from the Physics department. Co-supervised graduate student Vaskar Gnyawali and postdoctoral fellow Byeong-Ui Moon created the models and conducted the experiments. The project is being lauded as a simple and elegant solution to shrinking microbubbles for imaging and therapeutic uses. Their paper Honey, I shrunk the bubbles: microfluidic vacuum shrinkage of lipid-stabilized microbubbles was published in the external,Soft Matter journal of the Royal Society of Chemistry. The project was supported by funding from the Natural Sciences and Engineering Council of Canada (NSERC) Discovery and Engage grants.
Current techniques for producing the microbubbles, involving shaking liquids containing the surfactants (substances designed to reduce the surface tension of liquids), for bubbles, don't provide the desired uniformity of size required by researchers specializing in ultrasound.
"We had tried before to produce microbubbles using microfluidics, but we couldn't get them small enough," said Tsai. "We just needed this simple breakthrough to get the size down."
Continue reading at Ryerson University.
Photo via Ryerson University.