Giant ringed planet likely cause of mysterious eclipses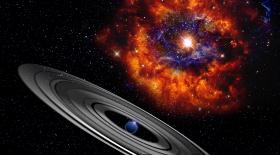 A giant gas planet – up to fifty times the mass of Jupiter, encircled by a ring of dust – is likely hurtling around a star more than a thousand light years away from Earth, according to new research by an international team of astronomers, led by the University of Warwick.
Hugh Osborn, a researcher from Warwick's Astrophysics Group, has identified that the light from this rare young star is regularly blocked by a large object – and predicts that these eclipses are caused by the orbit of this as-yet undiscovered planet.
Using data from the Wide Angle Search for Planets (WASP) and Kilodegree Extremely Little Telescope (KELT), Osborn and fellow researchers from Harvard University, Vanderbilt University, and Leiden Observatory analysed fifteen years of the star's activity.
"We found a hint that this was an interesting object in data from the WASP survey," said Hugh Osborn, lead author, who discovered the unusual light curve, "but it wasn't until we found a second, almost identical eclipse in the KELT survey data that we knew we had something special."
Read more at University of Warwick
Image: Artist's impression of the giant gas planet orbiting the star PDS 110, (Credit University of Warwick)