Pollution 'devastating' China's vital ecosystem, research shows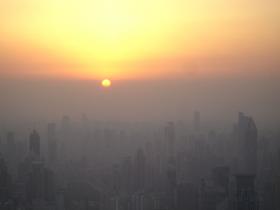 The startling extent to which man-made pollution is devastating China's vital ecosystem's ability to offset damaging carbon emissions has been revealed.
A pioneering new international study, led by the University of Exeter, has looked at the true impact air pollutants have in impeding the local vegetation's ability to absorb and store carbon from the atmosphere.
The study looked at the combined effects that surface ozone and aerosol particles – two of the primary atmospheric pollutants linked to public health and climate change – have on China's plant communities' ability to act as a carbon sink.
It found that ozone vegetation damage - which weakens leaf photosynthesis by oxidizing plant cells – far outweighs any positive impact aerosol particles may have in promoting carbon uptake by scattering sunlight and cooling temperatures.
Read more at University of Exeter
Photo credit: Suicup via Wikimedia Commons