Queen's Researcher Leads International Team to Discovery that could End Cracked Smart Devices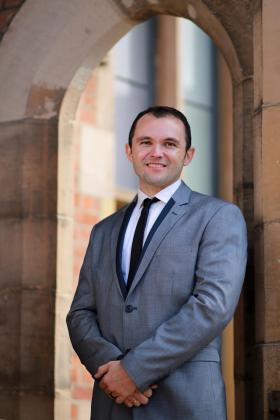 A Queen's University researcher has led an international team of scientists to the discovery of a new material, which could finally bring an end to the misery of cracked smartphone and tablet screens.
Currently, most parts of a smart phone are made of silicon and other compounds, which are expensive and break easily, but with almost 1.5 billion smart phones purchased worldwide last year, manufacturers are on the lookout for something more durable and less costly.
Dr Elton Santos from Queen's University's School of Mathematics and Physics, has been working with a team of top-notch scientists from Stanford University, University of California, California State University and the National Institute for Materials Science in Japan, to create new dynamic hybrid devices that are able to conduct electricity at unprecedented speeds and are light, durable and easy to manufacture in large scale semiconductor plants.
The team found that by combining semiconducting molecules C60 with layered materials, such as graphene and hBN, they could produce a unique material technology, which could revolutionise the concept of smart devices.
Read more at Queen's University Belfast
Image: This is Dr. Elton Santos from Queen's University Belfast (Credit: Queen's University Belfast)