Great Lakes research centre provides state-of-the-art facility in LaSalle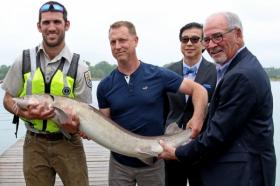 Students at the University of Windsor can now measure the stress levels of a pickerel swimming against a strong current, the turbidity of hazy tributaries feeding into the Great Lakes, and the behaviour of the invasive sea lamprey without wading into remote and distant waters.
The Freshwater Restoration Ecology Centre in LaSalle is the only research facility of its kind in the Great Lakes Basin and provides students with state-of-the-art technology to study the restoration of damaged ecosystems, invasive species biology and water quality.
"This project started because there was a need for consolidation of expertise around restoration ecology of the Great Lakes," said Freshwater Restoration Ecology Centre director Trevor Pitcher, associate professor at the Great Lakes Institute for Environmental Research and the Department of Biological Sciences.
"This centre will allow students and faculty to conduct cutting-edge research on questions about how we restore the environment back to the state it was prior to contamination and prior to industrial use in the area."
Continue reading at University of Windsor.
Photo via University of Windsor.