World Coal Consumption Experienced a Record Drop in 2016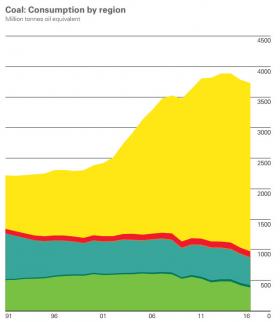 Global consumption of coal fell by a record amount last year, driven by a rise in natural gas, increasing deployment of wind and solar power, and a shift in China away from heavy industry, according to BP's global review of energy trends.
After increasing by an average of 1.9 percent yearly from 2005 to 2015, global coal consumption fell by 1.7 percent last year, according to the BP review. In the U.S., coal consumption dropped by nearly 10 percent, falling to levels not seen since the 1970s. In China, which accounted for about half of the coal burned worldwide, coal consumption fell by 1.6 percent in 2016, compared with an average 3.7 percent annual expansion in the preceding 11 years. In the U.K., coal demand fell by 52.5 percent as renewable energy generation increased significantly.
Continue reading at Yale Environment 360
Image: Global coal consumption fell by 1.7%, the second successive decline. The largest decreases were seen in the US (-33 mtoe, an 8.8% fall), China (-26 mtoe, -1.6%) and the United Kingdom (-12 mtoe, -52.5%). (Credits: BP Statistical Review of World Energy June 2017)