Why the World's Rivers Are Losing Sediment and Why It Matters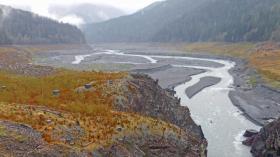 In September 2011, after 20 years of planning, workers began dismantling the Elwha and Glines dams on the Elwha River in northwestern Washington state. At the time, it was the largest dam removal project in U.S. history, and it took nearly three years for both barriers to be dismantled and for the river to once again flow freely.
Over the course of their nearly century-long lives, the two dams collected more than 24 million cubic yards of sediment behind them, enough to fill the Seattle Seahawks football stadium eight times. And since their removal, the Elwha has taken back the trapped sediment and distributed it downstream, causing the riverine ecosystem to be rebuilt and transformed. Massive quantities of silt, sand, and gravel have been carried to the coast, resurrecting a wetlands ecosystem long deprived of sediment.
"We've seen a big expansion of coast landforms," says Jonathan Warrick, a research geologist with the U.S. Geological Survey who studies the after-effects of the dam removal. "The beach is 500 feet offshore from where it used to be and there is this brand new wetland complex that has developed behind the beach."
Scientists are now beginning to fully appreciate the life-giving effects of sediment, which some researchers, as well as people who live along waterways, once viewed as a malevolent force that choked the life out of rivers, streams, and wetlands. Now, as global warming steadily melts glaciers and polar ice sheets, quickening the pace of sea level rise, scientists say that a severe shortage of river-borne sediment — most of it trapped behind dams — will increasingly be felt along the world's coasts.
Continue reading at YaleEnvironment360.
Image: OLYMPIC NATIONAL PARK/FLICKR