Topsy-Turvy Motion Creates Light Switch Effect at Uranus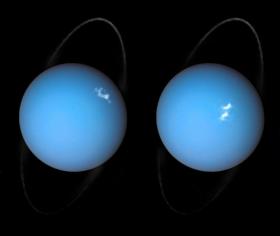 More than 30 years after Voyager 2 sped past Uranus, Georgia Institute of Technology researchers are using the spacecraft's data to learn more about the icy planet. Their new study suggests that Uranus' magnetosphere, the region defined by the planet's magnetic field and the material trapped inside it, gets flipped on and off like a light switch every day as it rotates along with the planet. It's "open" in one orientation, allowing solar wind to flow into the magnetosphere; it later closes, forming a shield against the solar wind and deflecting it away from the planet.
This is much different from Earth's magnetosphere, which typically only switches between open and closed in response to changes in the solar wind. Earth's magnetic field is nearly aligned with its spin axis, causing the entire magnetosphere to spin like a top along with the Earth's rotation. Since the same alignment of Earth's magnetosphere is always facing toward the sun, the magnetic field threaded in the ever-present solar wind must change direction in order to reconfigure Earth's field from closed to open. This frequently occurs with strong solar storms.
But Uranus lies and rotates on its side, and its magnetic field is lopsided — it's off-centered and tilted 60 degrees from its axis. Those features cause the magnetic field to tumble asymmetrically relative to the solar wind direction as the icy giant completes its 17.24-hour full rotation.
Rather than the solar wind dictating a switch like here on Earth, the researchers say Uranus' rapid rotational change in field strength and orientation lead to a periodic open-close-open-close scenario as it tumbles through the solar wind.
Read more at Georgia Institute of Technology
Image: This is a composite image of Uranus by Voyager 2 and two different observations made by the Hubble Space Telescope -- one for the ring and one for the auroras. (Credit: ESA/Hubble & NASA, L. Lamy/Observatoire de Paris)