Protective fluid in the knee holds clues for why osteoarthritis is more common in females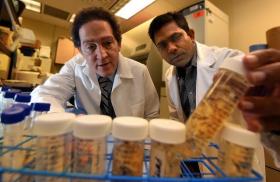 Researchers have more evidence that males and females are different, this time in the fluid that helps protect the cartilage in their knee joints.
They have found in the synovial fluid of this joint, clear differences in the messages cells are sending and receiving via tiny pieces of RNA, called microRNA, in males and females with the common and debilitating condition osteoarthritis.
The differences may help explain why the disease is more common in women as it points toward a more targeted way to diagnose and treat this "wear and tear" arthritis, said Dr. Sadanand Fulzele, bone biologist in the Department of Orthopaedic Surgery at the Medical College of Georgia at Augusta University.
Osteoarthritis, which affects more than 30 million Americans, is fundamentally a destruction of the cartilage that provides padding between our bones.
Read more at Medical College of Georgia at Augusta University
Image: Dr. Monte Hunter is chair of the MCG Department of Orthopaedic Surgery and a coauthor of the study in the journal Scientific Reports. Dr. Sadanand Fulzele is a bone biologist in the Department of Orthopaedic Surgery at the Medical College of Georgia at Augusta University. (Credit: Phil Jones)