Panda love spreads to benefit the planet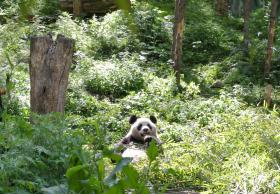 Loving pandas isn't just a feel-good activity. Recent Michigan State University (MSU) work shows China's decades of defending panda turf have been good not just for the beloved bears, but also protects habitat for other valuable plants and animals, boosts biodiversity and fights climate change.
The study points to a path going beyond pandas to even more benefits of conservation.
"Hidden roles of protected areas in the conservation of biodiversity and ecosystem services" was published in this week's journal Ecosphere.
"Sometimes unintended consequences can be happy ones – and give us ways to do even better as we work toward sustainability," said Jianguo "Jack" Liu, MSU's Rachel Carson Chair in Sustainability and director of Center for Systems Integration and Sustainability (CSIS). "Pandas are leading us to even greater ways to care for nature and health of humans and the planet."
Read more at Michigan State University
Image: A panda in China's Wolong Nature Reserve, snacks on bamboo. Efforts to conserve panda habitat have benefited both other animals and plants, but also has benefited humans by bolstering forests to sequester greenhouse gases, and retain water and soil. (Credit: Sue Nichols, Center for Systems Integration and Sustainability, Michigan State University)