UA Researchers discover the most abundant viruses in all the Earth's oceans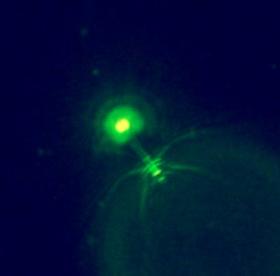 A group of scientists from several research centres and international universities led by Manuel Martínez García, from the University of Alicante Research Group in Molecular Microbian Ecology has discovered forty-four of the most abundant new viruses in all the Earth's oceans. The finding has been achieved thanks to the application of cutting-edge techniques that mix flow cytometry and genomics and molecular biology techniques. The findings will appear today, 23 June 2017, in the scientific journal Nature Communications.
The technique developed by the researchers has revealed some of the most abundant viruses on a planetary level, especially on the surface of all oceans. "This finding would allow the discovery of emerging pathogenic viruses, which are impossible to cultivate in the laboratory due to technical difficulties. In this way, the technique gives us the genomic information that each virus carries, so we know what virus it is", as explained by UA researcher Manuel Martínez García.
Up to date, there were hints, but it was not known which some of the most abundant viruses in the oceans of the planet were. This study sheds light on this issue and gives way to the study of other ecosystems. "With this technology, we open the door to deciphering the terrestrial viriosphere," according to Òscar Fornas, one of the researchers involved and head of the Flow Cytometry Unit at Pompeu Fabra University and Centre for Genomic Regulation in Barcelona. "Not only does it serve to discover new viruses or see the ecology of large groups of viruses in the samples studied, but also sets the basis for studying the different viruses present in a particular ecosystem. In this regard, the human body is a particular ecosystem and this is where much of the future of this project or possible emergent projects lies."
Read more at Asociación RUVID
Image: Photographic assembly that simulates a "single virus" isolated. (Credit: Image courtesy of Asociación RUVID)