Warm winter events in the arctic are becoming more frequent, lasting longer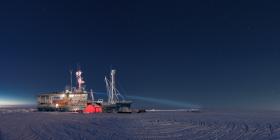 Arctic winter warming events – winter days when temperatures peak above minus 10 degrees Celsius – are a normal part of the Arctic climate over the ice-covered Arctic Ocean, but new research finds they are becoming more frequent and lasting longer than they did three decades ago.
A new study analyzing winter air temperatures over the Arctic Ocean from 1893 to 2017 shows that since 1980, an additional six Arctic winter warming events are occurring each winter at the North Pole and these events are lasting about 12 hours longer, on average. In December 2015, scientists recorded a temperature of 2.2 degrees Celsius (36 degrees Fahrenheit) in the Central Arctic, the warmest temperature ever recorded in this region from December through March.
Winter warming events have been observed by scientific excursions in the Arctic as early as the Fram expedition in 1896, when Norwegian explorers froze their ship into the ice in an attempt to reach the North Pole. But the prevalence and length of these events has broken records in recent years, according to authors of the new study in Geophysical Research Letters, a journal of the American Geophysical Union.
The new findings build on other evidence of Arctic warming. The average surface air temperature for the year ending September 2016 was the highest since 1900, and new monthly record highs were recorded for January, February, October and November 2016. Minimum sea ice extent at the end of summer 2016 tied with 2007 for the second lowest in the satellite record, which started in 1979, according to the National Oceanic and Atmospheric Administration.
Read more at American Geophysical Union
Photo: The N-ICE2015 research vessel Lance on 17 February 2015. (Credit: Paul Dodd / Norwegian Polar Institute)