Insecticides damage bee socialization and learning skills, study reports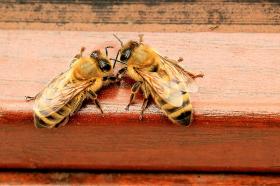 The effects of neonicotinoid insecticides on bees has been widely covered in the news recently, with laboratory-based studies suggesting that the chemicals are harmful, and field studies which are much less clear cut. Adding to current knowledge on the topic, new research published in the Journal of Apicultural Research further explores the effects that these chemicals may have on social behavior and learning in honey bees.
In one paper, researchers Nadège Forfert and Robin Moritz of Martin Luther University, in Halle-Wittenberg, Germany, explore the effect of the neonicotinoid thiacloprid on social interactions among honey bee workers. They measured interactions in experimental groups of workers to assess the effects of thiacloprid on social network structure, and the amount of food exchanged among worker individuals.
They found that bees fed with thiacloprid significantly reduced their social interactions, suggesting that foraging bees that encounter high doses of insecticide in the field may be less likely to recruit others to these nectar sources, but they also exchanged more food to other group members, which resulted in a dilution of the contaminated food. This means, although thiacloprid may act to interfere with social network structure, it could also play a role in the dynamics of disease transmission in the colony if pathogens are transmitted via food exchange.
Continue reading at Taylor & Francis
Credit: Image courtesy of Taylor & Francis