Four Out of 10 Americans Live in ''Double Whammy'' Climate Hot Spots Where Smog and Ragweed Threaten Health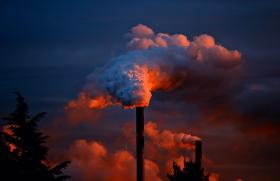 Four out of 10 Americans live in "double whammy" counties where unhealthy smog and pollen-producing ragweed– both tied to the growing climate crisis – combine to threaten respiratory health, a Natural Resources Defense Council mapping project released today shows.
NRDC's analysis found air quality "hot spots" in states and areas with the greatest percentages of people living in areas with both ragweed and unhealthy ozone days. Ironically, Washington, D.C., -- where climate action is being rolled back — leads the rankings followed by Connecticut, Rhode Island, Illinois and Pennsylvania.
127 million Americans live in zones where increased carbon dioxide and ozone smog pollution largely from burning fossil fuels, combined with more ragweed pollen, can worsen respiratory allergies and asthma. That can lead to more sick days, higher medical costs, and a rise in the number of heart problems and premature deaths each year.
Read more at NRDC.
Image source: JuregenPM